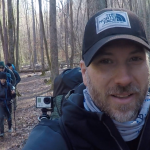 This month, Jonathan and Mark get a chance to talk with Mark Orton – also known as Spiguyver. We chat about his experiences camping and backpacking and what got him into producing regular video content for hammock campers and backpackers alike. We get a little more in-depth talking like gearheads, and then talk about what we all love when we're backpacking – food! Finally, we chat a little about mountain biking where there aren't mountains.
We get a special treat this month with Spiguyver chatting with us about our trending topic this month, modding the infamous Costco Down Throw as an underquilt/topquilt.
Show Notes:
If you're interested in trail food, you can find pack-it gourmet here: http://www.packitgourmet.com
Here is a video on how to build your very own spiguyver stove: https://www.youtube.com/watch?v=-UCMjDYXnhw
Mark mentioned an imgur page with instructions for the CostCo down throw: http://imgur.com/gallery/ABzWn
And finally here is a link to the GSI Kung Foon, in Titanium (http://amzn.to/2nsFQzo) and Stainless(http://amzn.to/2orLC5g).
Acknowledgements go this month to our episode sponsors – Arrowhead Equipment, filling gaps for hammock campers that other companies aren't providing, at http://www.arrowhead-equipment.com. And many thanks to Yukon Outfitters, a Tennessee-based manufacturer of hammock camping gear and a line of outdoors-related products. Listen to the episode for a 15% off coupon code to use at https://www.yukon-outfitters.com!
As always, we are also inviting comments and suggestions on our Facebook page – like us there at http://www.facebook.com/hyohpodcast and join the conversation. You can listen to or subscribe to the podcast from a link on our home page online at https://www.hyohpodcast.com or give us a review on our page in iTunes. If you'd like to buy Mark and Jonathan a cup of coffee, go to https://www.hyohpodcast.com/donate to make a one-time donation. As always, thanks so much for hanging around!
Podcast: Play in new window | Download
Subscribe: Apple Podcasts | RSS