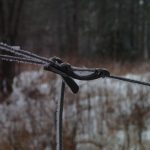 After producing a hammock camping podcast for a year, we bring you a very special anniversary episode! Jonathan and Mark get together some of the record holders in cold weather camping for an extended round table, just in time for the winter months. Shug, Fronkey, Bic, and CryOTheWild (also known as Nick of the Woods) chat about getting warm and keeping warm, some of their "fails" in winter camping, and even share a few hints about peeing in the woods (hint: it's cold at night). We finish with some sound advice from each of the campers about why winter camping, and especially cold weather camping, is such a great idea.
After an extended chat with the guys, Mark and Jonathan discuss some of the Acronyms that many newbies might not be familiar with when they start talking with hammock campers, and review some of their own experience with them.
Acknowledgements go this month to 2 episode sponsors – Haute Hammock, a fine purveyor of hammock-related t-shirt designs, and Yukon Outfitters, a US-based manufacturer of hammock camping gear, along with a line of outdoors-related products. Listen to our episode for a discount code on your next order!
Show Notes:
Here is a great compilation of acronyms that Just Jeff, one of the "old timers" in Hammock Camping, put together: http://www.hammockforums.net/forum/showthread.php/216-Hammock-Acronyms
Here are a couple of videos from the 2016 Frozen Butt Hang: https://www.youtube.com/watch?v=HDd1Hc3_v8Q and https://www.youtube.com/watch?v=lppx5x22_kw
As always, we are also inviting comments and suggestions on our Facebook page – like us there at http://www.facebook.com/hyohpodcast and join the conversation. You can listen to or subscribe to the podcast from a link on our home page online at https://www.hyohpodcast.com or give us a review on our page in iTunes. If you are really enjoying our podcast and want to see us reach our goal of two podcasts per episode, please be sure to become a patron at https://www.patreon.com/hyohpodcast. If you'd rather not become a monthly patron but would still like to buy Mark and Jonathan a cup of coffee, go to https://paypal.me/hyohpocast to make a one-time donation. Thanks so much for hanging around!
Podcast: Play in new window | Download
Subscribe: Apple Podcasts | RSS