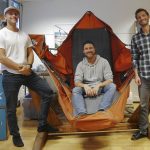 This month Mark and Jonathan chat it up early in the morning (for them) with Jonas Haug, Steiner Bukve Witsø, and Didrik Abrahamsen from Amok Equipment in Norway. We chat with them about their experience bringing such a unique product online and how they develop it. After that, they discuss some of their experience camping and living in Northern Europe. Finally, everyone shares a little bit of their memories and talks about camping equipment that they've been using for years.
After chatting with the guys from Amok, Jonathan and Mark discuss knots vs. "bling" for dealing with the age-old question, how will you hang your hammock and tarp?
Show Notes:
If you're interested in the Draumr XL prototype giveaway, you can go here: https://m.youtube.com/watch?v=aUG9T5gp2TY
Click here to read the 2015 Amok Kool-Aid Drinker's Thread at Hammock Forums.
If you want to learn from Grog about how to tie knots, here's the website for Grog's Animated Knots.
As always, we are also inviting comments and suggestions on our Facebook page – like us there at https://www.facebook.com/hyohpodcast and join the conversation. You can listen to or subscribe to the podcast from a link on our home page online at https://www.hyohpodcast.com or give us a review on our page in iTunes. If you'd like to buy Mark and Jonathan a cup of coffee, go to https://www.hyohpodcast.com/donate to make a one-time donation, or you can donate monthly to our Patreon Campaign at https://www.patreon.com/hyohpodcast. As always, thanks so much for hanging around!
Podcast: Play in new window | Download
Subscribe: Apple Podcasts | RSS