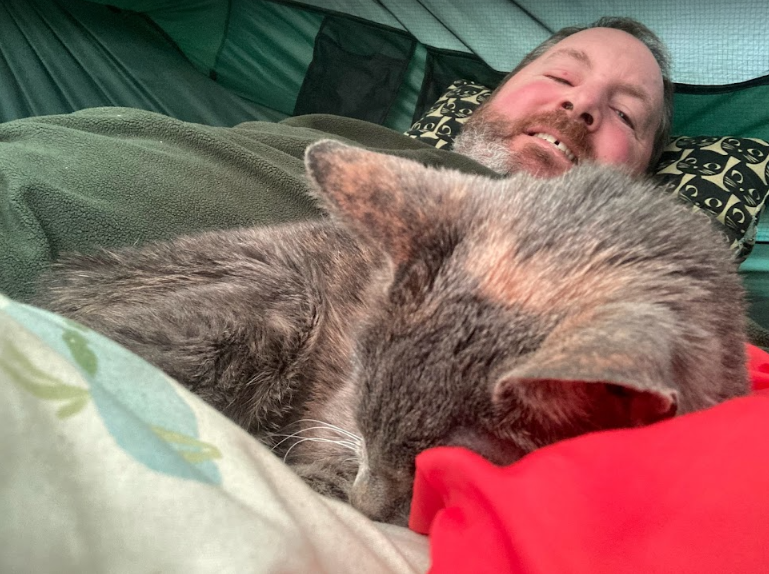 Episode 80 is recorded and is ready to be edited, but I am only human and my heart is broken today.
It's a sad day here in the house. My hammock cat, Coco, is gone.
Anyone that knows me knows I have a soft spot for older cats with a difficult past. We adopted Coco some years ago now, maybe 2018. She was in the shelter after her family put her outside and moved away. Coco had been fending for herself for months and then had not been adopted for months more at the shelter. And then I come along, read the story, look at her and that was it, she came home with me. Coco, whom I affectionally nicknamed Dumb-Dumb, became part of the family. She was very friendly, not a mean bone in her body for humans, but she was tough with the other cats in the house, which was likely learned from months on her own. Over the years, she has had issues and I feel it is good she was in our house because we not only tolerate things but adjust and accommodate. Penny jokes that I run a cat hospice, and for a few cats, that is the truth.
Over the past few months, Coco has been declining with age. When she could no longer eat hard food, we gave her soft, and when soft was too much, we gave her pâté, and all the treats she wanted. But this weekend, she really started to crash. I spent yesterday outside with her so she could have her last day on earth watching birds fly by and sleep with me in the hammock one last time.
I am really trying to be thankful that she was part of our family and not dwell that she is gone but it'll take a little bit for me and a few tissues.
Thanks for reading. I will edit Episode 80 soon, I appreciate your understanding.