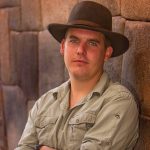 This month is an oportunity to talk about adventure – Jonathan and Mark get a chance to talk with Jimmy McSparron (also known as trekkingnut) about his life as an adventurer in Peru, the Andes, and all over the world. A Fellow of the Royal Geographic Society and operator of TrekkingNut Expeditions, Jimmy has visited over 31 countries and is the brand ambassador for Hennessy Hammock and Craghoppers. Listen as we hear about some of his experiences in the wild, and how he leads a life of adventure in the wild.
After our chat with Jimmy, Jonathan and Mark talk about some hammock camping "Life Hacks" and how they make our life a little better in surprising ways. Send your ideas to lifehacks@hyohpodcast.com for the opportunity to be featured on a future episode!
Show Notes and Links:
Learn more about the KaPoc Tree at its WikiPedia article.
Watch Jimmy get his paed tidt tattoo in his YouTube video.
Here's a link to the Garmin Inreach SE+ two-way satellite tracker Jimmy mentions that he uses when he travels in the wilderness.
This month's show sponsor is Audible, an online purveyor of over 200,000 audiobooks and other forms of audio content, available to listen to on your smartphone or other device of choice. For a free 30-day trial, go to https://www.hyohpodcast.com/audible and subscribe. You can cancel any time in the first 30 days and keep your first audiobook as a thanks for trying the product!
As always, we are also inviting comments and suggestions on our Facebook page – like us there at https://www.facebook.com/hyohpodcast and join the conversation. You can listen to or subscribe to the podcast from a link on our home page online at https://www.hyohpodcast.com or give us a review on our page in iTunes. If you'd like to buy Mark and Jonathan a cup of coffee, go to https://www.hyohpodcast.com/donate to make a one-time donation. As always, thanks so much for hanging around!
Podcast: Play in new window | Download
Subscribe: Apple Podcasts | RSS