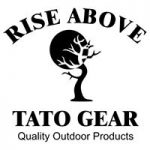 This month we get a chance to talk to a couple of folks who have been involved in the hammock camping community for quite a while – Bryan Oates and John Gresham of Tato Gear. Not only making amazing stoves, Bryan has been solving those little problems with hammocks and hammock systems for a while (Jonathan, for instance, uses the ridgeline quilt hook for getting rid of drafts in his underquilt). We chat with the guys about how they got into hammock camping, the type of gear they use, and their experience doing kickstarters, like the one for their hammock stand.
**Notes on the giveaway mentioned in the podcast** – add a comment below anywhere we've posted (forums, website, or social media) and be automatically entered into a drawing for a Tato Gear Element woodburning stove! The comment can be a kudos, criticism, or suggestion for an upcoming guest. We'll do a drawing before next month's podcast and mention the winner on the podcast and in our social media.
We also chat about the media we check out online – podcasts and youtube content. Jonathan likes a couple of podcasts (of course), and Mark, John, and Bryan have some YouTube favorites.
Finally, Mark and Jonathan wax a little too much about their favorite "gadgets" they bring onto the trail.
Show Notes and Links:
Tato Gear Ridgeline Quilt Hook
LuminAID PackLite Nova Solar Inflatable Lantern
Garmin inReach SE+
7800mAh Rechargeable Camping Lantern Power Bank 3-in-1 Portable Device – Defrost Labs Rechargeable Pocket Camping Lantern
Acknowledgements go this month to our episode sponsors – Arrowhead Equipment, filling gaps for hammock campers that other companies aren't providing, at http://www.arrowhead-equipment.com. And many thanks to Yukon Outfitters, a Tennessee-based manufacturer of hammock camping gear and a line of outdoors-related products. Listen to the episode for a 15% off coupon code to use at https://www.yukon-outfitters.com!
As always, we are also inviting comments and suggestions on our Facebook page – like us there at http://www.facebook.com/hyohpodcast and join the conversation. You can listen to or subscribe to the podcast from a link on our home page online at https://www.hyohpodcast.com or give us a review on our page in iTunes. If you'd like to buy Mark and Jonathan a cup of coffee, go to https://www.hyohpodcast.com/donate to make a one-time donation. As always, thanks so much for hanging around!
Podcast: Play in new window | Download
Subscribe: Apple Podcasts | RSS