In this episode,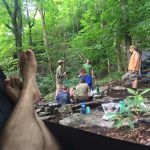 Mark and Jonathan get a chance to chat it up with a Scout Troop that has converted completely over to hammock camping for all of their outings. We chat about how they converted, why they hammock camp, and how they fit it into their regular program. It's obvious to these Scouts that hanging is the only way to camp!
After talking to the Scouts, Mark and Jonathan discuss their suspension, and the many choices available to hangers in today's market.
Finally, Jonathan reviews a new product to the market in a kickstarter, the Ultimate Hammock, while talking to its creator.
Show Notes:
Learn more about Trail Life here.
Here's a link to Shug's video demonstrating how to move down around down in an underquilt.
Find more information about the Superior Hammock kickstarter here.
As always, we are also inviting comments and suggestions on our Facebook page – like us there at https://www.facebook.com/hyohpodcast and join the conversation. You can listen to or subscribe to the podcast from a link on our home page online at https://www.hyohpodcast.com or give us a review on our page in iTunes. If you'd like to buy Mark and Jonathan a cup of coffee, go to https://www.hyohpodcast.com/donate to make a one-time donation, or you can donate monthly to our Patreon Campaign at https://www.patreon.com/hyohpodcast. As always, thanks so much for hanging around!
Podcast: Play in new window | Download
Subscribe: Apple Podcasts | RSS