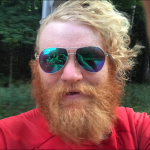 In this episode, Jonathan and Mark have an amazing (and surprisingly long) chat with Rhys Hora, a class of '17 AT Thru-hiker and contributor at the online hiking blogging magazine The Trek. We discuss his experiences from his first dose of reality and amazing sights on the trail to his love of his hammocks and their clear superiority over tents, especially on the AT. They also have an interesting conversation about their first aid kits on the trail, and how they're different for different purposes. Finally, We keep Rhys on to discuss the idea that it might be bad for nature to enjoy nature in the trending topics segment.
In our monthly segment, "Hanging Out with Gresh and Spiguyver", the guys talk about food and different options on the trail.
Show Notes:
The video "As It Happens: Pacific Crest Trail" can be found by clicking on this link.
Here's a site that you can use to rent a SPOT locator (you can google one too).
If you want to look at how TreeFool builds his first aid kit, here's his web page on it.
As always, we always invite your comments and suggestions on our Facebook page – like us there at https://www.facebook.com/hyohpodcast and join the conversation – we love the questions we have been getting for Mark and Gresh. You can listen to or subscribe to the podcast from a link on our home page online at https://www.hyohpodcast.com or give us a review on our page in iTunes. If you'd like to buy Mark and Jonathan a cup of coffee, go to https://www.hyohpodcast.com/donate to make a one-time donation, or you can donate monthly to our Patreon Campaign at https://www.patreon.com/hyohpodcast. As always, thanks so much for hanging around!
Podcast: Play in new window | Download
Subscribe: Apple Podcasts | RSS