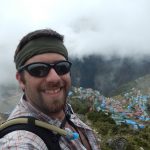 In this episode, Mark and Jonathan get a chance to have additional time conversing with Nick of the Woods, who we spoke to in episode 13, our cold weather episode. Nick, an outdoors guide and educator, tells us about how he got into the woods, and why it means so much to him to introduce the rest of us to the skills necessary to learn to love them the way he does. After that, a quick conversation about keeping water clean finishes up the chat. Finally, Jonathan and Mark then have a quick conversation about how a camp location can affect your comfort.
Show Notes:
Nick's website is http://www.nickofthewoods.com and you can find his meetup group at http://www.meetup.com/Wilderness-Adventure-Group
If you're interested in DD Hammocks' ultralight hammock stand, here is a link to it in Amazon.
Here's that article about real and sham bushcraft: http://masterwoodsman.com/2015/real-sham-survival-bushcraft/
Check out the cooking videos for Mr. Babelfish5
If you're interested in the Katadyn that Nick uses, here it is.
Jonathan's Katadyn BeFree water filter can be found here on Amazon.
Finally, Mark's Sawyer MIni system can be found here on Amazon.
As always, we are also inviting comments and suggestions on our Facebook page – like us there at https://www.facebook.com/hyohpodcast and join the conversation. You can listen to or subscribe to the podcast from a link on our home page online at https://www.hyohpodcast.com or give us a review on our page in iTunes. If you'd like to buy Mark and Jonathan a cup of coffee, go to https://www.hyohpodcast.com/donate to make a one-time donation, or you can donate monthly to our Patreon Campaign at https://www.patreon.com/hyohpodcast. As always, thanks so much for hanging around!
Podcast: Play in new window | Download
Subscribe: Apple Podcasts | RSS