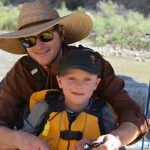 This month's episode brings us Ben Lawhon, Education Director for the Leave No Trace Center for Outdoor Ethics. Mark and Jonathan get a chance to chat with Ben about the LNT mindset, and how Hammock Camping fits into backcountry and frontcountry visits (hint: it's great!). We learn a little more with a quick review of the 7 principles, and how to have a "teaching moment" during an encounter with another person. After a discussion about dispersed camping, we finish off with some ideas about how to approach local land managers about supporting hammocks and hammock camping in their jurisdiction.
Mark and Jonathan also discuss the idea of using milkweed instead of down as an insulation source for cooler-weather camping.
Acknowledgements go this month to 2 episode sponsors – Haute Hammock, a designer of fine hammock-related t-shirts, and Yukon Outfitters, a Tennessee-based manufacturer of hammock camping gear, along with a line of outdoors-related products. Listen to our episode for significant discount codes on your next order, including a special rate for the upcoming holiday season!
Show Notes:
If you want to reach out to the Leave No Trace Center for Outdoor Ethics, here is a link to their website where you can contact them.
Here's a link to the Gizmodo.com article about milkweed pods, along with a link to the company in Quebec actually making product, Chlorophylle.
As always, we are also inviting comments and suggestions on our Facebook page – like us there at http://www.facebook.com/hyohpodcast and join the conversation. You can listen to or subscribe to the podcast from a link on our home page online at https://www.hyohpodcast.com or give us a review on our page in iTunes. If you are really enjoying our podcast and want to see us reach our goal of two podcasts per episode, please be sure to become a patron at https://www.patreon.com/hyohpodcast. If you'd rather not become a monthly patron but would still like to buy Mark and Jonathan a cup of coffee, go to https://paypal.me/hyohpocast to make a one-time donation. Thanks so much for hanging around!
Podcast: Play in new window | Download
Subscribe: Apple Podcasts | RSS