I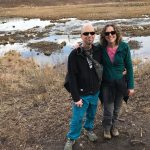 n this episode, Mark and Jonathan interview James Jackson from Little Shop of Hammocks. We chat with James about his experience camping and in the outdoors, then discuss some of the challenges and opportunities of being a hammock and quilt supplier in Canada. James shares some great ideas about where to go camping in Canada, along with some interesting custom work he's done. We finish up with a quick chat about "stupid heavy" stuff to bring backpacking.
After that, Jonathan and Mark chat about fussing over suspension, and Gresh and Spiguyver finish up with a great Hanging Out segment about how to decide on investing in one's quilts.
Show Notes:
Check out the Hammock Camping Canada Facebook group and participate!
As always, we always invite your comments and suggestions on our Facebook page – like us there at https://www.facebook.com/hyohpodcast and join the conversation – we love the questions we have been getting for Mark and Gresh. You can listen to or subscribe to the podcast from a link on our home page online at https://www.hyohpodcast.com or give us a review on our page in iTunes. If you'd like to buy Mark and Jonathan a cup of coffee, go to https://www.hyohpodcast.com/donate to make a one-time donation, or you can donate monthly to our Patreon Campaign at https://www.patreon.com/hyohpodcast. As always, thanks so much for hanging around!
Podcast: Play in new window | Download
Subscribe: Apple Podcasts | RSS