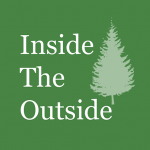 In this episode, Jonathan and Mark share their experience as guests on another excellent podcast, Inside the Outside. Hosted by Gary and Christy Kirk, the weekly podcast is a couple's perspective on being in the outdoors, learning about hiking and backpacking with some informational episodes scattered into a number of interview episodes. If you're into learning more, this is an excellent podcast.
After the interview, Mark and Jonathan discuss the possibility of emergencies and how a two-way device might help with problems wile hiking, or even back at home. Finally, Jonathan gives an informal review of his experience with the Nubé hammock shelter, a product discussed in the Episode 28 interview with Sierra Madre Research.
In the new segment, "Hangin Out with Gresh and Spiguyver", the guys talk about hiking fast vs. slow.
Show Notes:
Here's a link to Shug's Video review of the Nubé. And you can click here to watch Derek Hansen review the Nubé.
You can find a link to the Garmin InReach Explorer+ at Amazon here.
The SpotX 2-way device is also available at Amazon here.
References for the Hangin Out segment:
Spiguyver mentions the Fastest Known Time website, here.
As always, we are always inviting comments and suggestions on our Facebook page – like us there at https://www.facebook.com/hyohpodcast and join the conversation – we love the questions we have been getting for Mark and Gresh. You can listen to or subscribe to the podcast from a link on our home page online at https://www.hyohpodcast.com or give us a review on our page in iTunes. If you'd like to buy Mark and Jonathan a cup of coffee, go to https://www.hyohpodcast.com/donate to make a one-time donation, or you can donate monthly to our Patreon Campaign at https://www.patreon.com/hyohpodcast. As always, thanks so much for hanging around!
Podcast: Play in new window | Download
Subscribe: Apple Podcasts | RSS