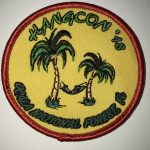 This month, Mark and Jonathan travel to Ocala National Forest in Florida for the Hangcon 2018 group hang. We did a live recording of the episode this month, chatting about the future of hammock camping with a couple of folks you might recall: Gresh and Spiguyver, as well as a new guest: Tripsmith. After our initial conversation, we chat with everyone about what they'd like to see in the future, and then finally the stuff they do/don't take with them on a backpacking or camping trip. While a little bit colder than expected, it was a great podcast recording and tons of fun meeting folks there who have listened to our podcast in the past. Thanks so much to the organizers of the group hang, Gumbo and Timberr, who put so much effort into making this a great experience for everyone.
Show Notes:
You can reach Gresh at greshoutdoors.com, which forwards visitors to his public facebook page.
You can view Spiguyver's reviews and videos on his youtube.com channel, available here.
You can view Tripsmith's camping and kayaking videos on his youtube.com channel, available here, or by emailing him at sailingandsuch@gmail.com.
As always, we are also inviting comments and suggestions on our Facebook page – like us there at https://www.facebook.com/hyohpodcast and join the conversation. You can listen to or subscribe to the podcast from a link on our home page online at https://www.hyohpodcast.com or give us a review on our page in iTunes. If you'd like to buy Mark and Jonathan a cup of coffee, go to https://www.hyohpodcast.com/donate to make a one-time donation, or you can donate monthly to our Patreon Campaign at https://www.patreon.com/hyohpodcast. As always, thanks so much for hanging around!
Podcast: Play in new window | Download
Subscribe: Apple Podcasts | RSS