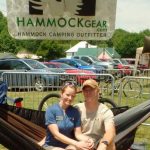 On this month's episode, Mark and Jonathan get a chance to have a great conversation with a true veteran of the industry, Adam Hurst from Hammock Gear. He talks about his experience camping and backpacking, his experience getting started in the industry and introducing different insulating products into the market, and his ideas for new products. We also chat about Hammock Gear and its role as a cottage vendor in a growing industry. Finally, we finish with a chat about how we make sure we're prepared to (gasp) "go to ground".
Mark and Jonathan talk about dealing with critters, and then do a short product review of the Katadyn BeFree portable water filter.
Show Notes and Links:
Here's that video from Shug, Setting up a Hammock and Tarp on the Ground.
Jonathan uses an Ursack instead of hanging a bear bag, you can get that here.
Finally, here is a link to the Katadyn BeFree water filtration system.
This month's show sponsor is Audible, an online purveyor of over 200,000 audiobooks and other forms of audio content, available to listen to on your smartphone or other device of choice. For a free 30-day trial, go to https://www.hyohpodcast.com/audible and subscribe. You can cancel any time in the first 30 days and keep your first audiobook as a thanks for trying the product!
As always, we are also inviting comments and suggestions on our Facebook page – like us there at https://www.facebook.com/hyohpodcast and join the conversation. You can listen to or subscribe to the podcast from a link on our home page online at https://www.hyohpodcast.com or give us a review on our page in iTunes. If you'd like to buy Mark and Jonathan a cup of coffee, go to https://www.hyohpodcast.com/donate to make a one-time donation. As always, thanks so much for hanging around!
Podcast: Play in new window | Download
Subscribe: Apple Podcasts | RSS