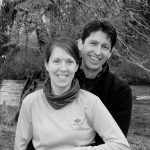 In this episode, Jonathan and Mark have a chance to chat with Heather and Josh Legler, hosts of The First 40 Miles podcast, a podcast that introduces beginners to backpacking and backpacking skills. Earlier in the summer, we challenged Heather and Josh to try out hammock camping for the first time and then do a podcast episode chatting about their experience as first-timers. Heather and Josh also hosted an episode about Hammock Camping on their own podcast, which includes more about their experiences as well as a review of the gear that they used. You can find that podcast episode here.
Heather and Josh share their experience sleeping overnight in their hammocks, including the positive and negative points of working through hammock camping for the first time, getting the bugs out, and their thoughts about going camping again.
After discussing their first night, Jonathan and Mark talk with Heather and Josh about their different experiences backpacking and camping with kids.
Mark and Jonathan also discuss full-time hanging at home and the advantages or disadvantages of it, along with some of the risks of not doing it right.
Show Notes:
The article about sleeping poorly the first night when traveling: Half Your Brain Stands Guard When Sleeping In A New Place
Here is a link to the 2 hammock camping forums sites where you can find a group hang near you: https://hammockforums.net/forum/forumdisplay.php/44-Hangouts-Campouts-and-Trip-Planning and http://hammockhangers.net/viewforum.php?f=6
As always, we are also inviting comments and suggestions on our Facebook page – like us there at http://www.facebook.com/hyohpodcast and join the conversation. You can listen to or subscribe to the podcast from a link on our home page online at https://www.hyohpodcast.com or give us a review on our page in iTunes. If you are really enjoying our podcast and want to see us reach our goal of two podcasts per episode, please be sure to become a patron at https://www.patreon.com/hyohpodcast. If you'd rather not become a monthly patron but would still like to buy Mark and Jonathan a cup of coffee, go to https://paypal.me/hyohpocast to make a one-time donation. Thanks so much for hanging around!
Podcast: Play in new window | Download
Subscribe: Apple Podcasts | RSS