This month Jonathan and Mark get to talk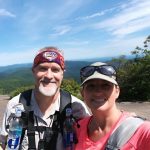 with John and Cathy Pennell, an adventuring husband and wife team who have chosen to start adventuring together later in life, showing us that it's never too late to have some fun in the outdoors and get healthy while doing it. We have a great conversation about backpacking and hammock camping with your significant other, and play the dating game while we're at it! After that, we chat a little bit about downtime activities.
Jonathan and Mark also have a discussion and (they think) some sage advice about setting up for a backyard hang.
Show Notes:
You can find John and Cathy's blog posts at https://couch2trail.wordpress.com/.
If you were thinking of buying it, click here to buy Dutchware's adjustable wall hangers.
Here's a link to Colorado Springs' FOX21 followup on Hammock Camping.
As always, we are also inviting comments and suggestions on our Facebook page – like us there at https://www.facebook.com/hyohpodcast and join the conversation. You can listen to or subscribe to the podcast from a link on our home page online at https://www.hyohpodcast.com or give us a review on our page in iTunes. If you'd like to buy Mark and Jonathan a cup of coffee, go to https://www.hyohpodcast.com/donate to make a one-time donation, or you can donate monthly to our Patreon Campaign at https://www.patreon.com/hyohpodcast. As always, thanks so much for hanging around!
Podcast: Play in new window | Download
Subscribe: Apple Podcasts | RSS