Where we learn that camping in a hammock involves NOT sleeping on the ground.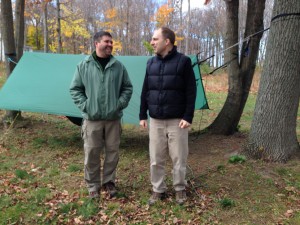 Meet Mark and Jonathan, a couple of scouters, backpackers and campers who are really excited about hammock camping. You'll learn about how they got into hammock camping, some of their early experiences, and a little bit about hammocking along the way.
Is hammock camping a trend? Jonathan and Mark certainly think so. Seems like every day there's more people out there hanging from trees.
Podcast: Play in new window | Download
Subscribe: Apple Podcasts | RSS