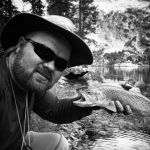 In this episode Mark and Jonathan have a chance to talk with Paul Gibson, owner and founder of Arrowhead Equipment. An avid backpacker and fisherman, Paul chats with us about his background in hammock camping and his experiences starting a business in a nascent industry such as hammock camping. He also shares his thoughts about being a cottage vendor, why that's important, and some of the products that he has been working on recently. We also talk about some "cool hangs" that we've done.
Mark and Jonathan also discuss ticks and the Alpha Gal allergy, and how to avoid tick bites and some of the nasty diseases that they carry.
Show notes:
The radio lab episode on Alpha Gal can be found here: http://www.radiolab.org/story/alpha-gal/
The battery/lantern available on Amazon.com can be found at http://amzn.to/2i7cJim
A link to Arrowhead Equipment's kit product can be found here: http://bit.ly/1IKAruv
Permethrin at Amazon can be found in spray as well as higher concentrated bottles, here: http://amzn.to/2kh3Cip. If soaking, be sure to reduce the concentration to less than 5%.
Acknowledgements go this month to our episode sponsors – Dutchware Gear, specializing in hammock camping accessories. Check out their kickstarter at https://www.kickstarter.com/projects/703694747/chameleon-hammock-by-dutchware. Also Haute Hammock, a designer of hammock-related t-shirts. Check out their amazing designs at www.hautehammock.com and use their discount code HYOH15 at checkout. Finally thanks to Yukon Outfitters, a Tennessee-based manufacturer of hammock camping gear and a line of outdoors-related products.
As always, we are also inviting comments and suggestions on our Facebook page – like us there at http://www.facebook.com/hyohpodcast and join the conversation. You can listen to or subscribe to the podcast from a link on our home page online at https://www.hyohpodcast.com or give us a review on our page in iTunes. If you are really enjoying our podcast and want to see us reach our goal of two podcasts per episode, please be sure to become a patron at https://www.patreon.com/hyohpodcast. If you'd rather not become a monthly patron but would still like to buy Mark and Jonathan a cup of coffee, go to https://paypal.me/hyohpocast to make a one-time donation. As always, thanks so much for hanging around!
Podcast: Play in new window | Download
Subscribe: Apple Podcasts | RSS